THE GRIND is what it is. An online journal, a zine, a radio show, a podcast, an events organiser, fundraiser, a political voice.
THE GRIND's strength is its ability to mould itself into whatever niche is available. Whatever opportunities may arise.
THE GRIND was founded by Gordon Johnstone and Declan Malone in October 2013.
CHOOSE YOUR DESTINATION
Powered by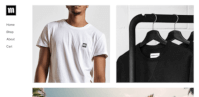 Create your own unique website with customizable templates.